COUNTRY HEAT™
DANCE WORKOUT
TURN IT UP TO
BURN IT OFF™
Get Dancing. Get Fit.
And Get Hot!
Finally, a workout you'll
love

to do!

If you can walk, you can do the Country Heat dance fitness programme. And if you can do Country Heat, you can lose weight—FAST!

When was the last time you actually had FUN trying to lose weight? When was the last time you actually looked forward to walking on a treadmill? Country Heat changes everything! It's great country music—and by great, we mean GREAT—and the moves are simple line dance-inspired. Yes, SIMPLE! So if you want to lose weight but have been waiting for the simple, fun programme without burpees, pull-ups, or hip-hop backflips…

You're gonna LOVE Country Heat. Turn it up to burn it off!

Set to chart-topping country music, the moves are so easy it's like walking, but way more fun. And not only are the moves easy to follow, so is the eating plan: With simple portion-control containers you lose the weight and still get to eat the food you love.

The result? A complete weight-loss solution that's so easy—and such a blast—you'll never have to talk yourself into working out again—'cause you're gonna want to do it!
Does it
really

work for everyone?

Ask them...
Why I Know Country Heat Will Work For You
"You know what the best workout is? The one you'll actually do! I've been training people my entire career, and one of the top reasons they don't lose weight…is they can't stick with their workouts. So they quit. And they keep getting heavier and heavier.
I made 100% sure that Country Heat is a programme you will stick with. I tested it over and over again, on people of all ages, all sizes, and all fitness levels. And you know what happened?
Not only did they stay with the programme, they totally loved it. That's how I know this is the programme that will—finally—get you the results you're looking for."
I'm seriously in love. It's as easy as walking!
Millie F. / Age: 50
"I did not expect to see such results from this fun workout or to sweat so much! The music was great. It was fun and easy to dance to. Country Heat is something I would recommend to everyone!"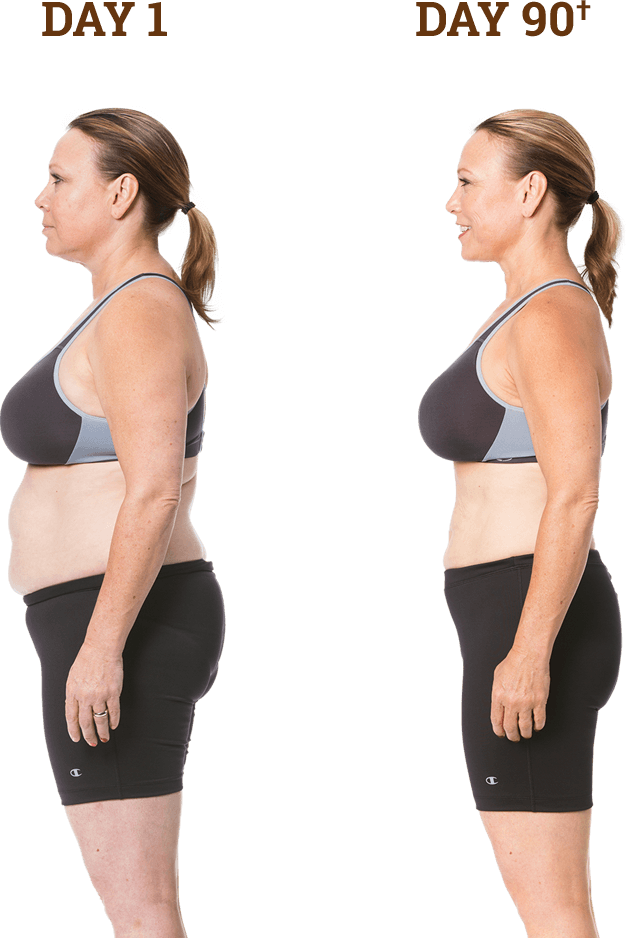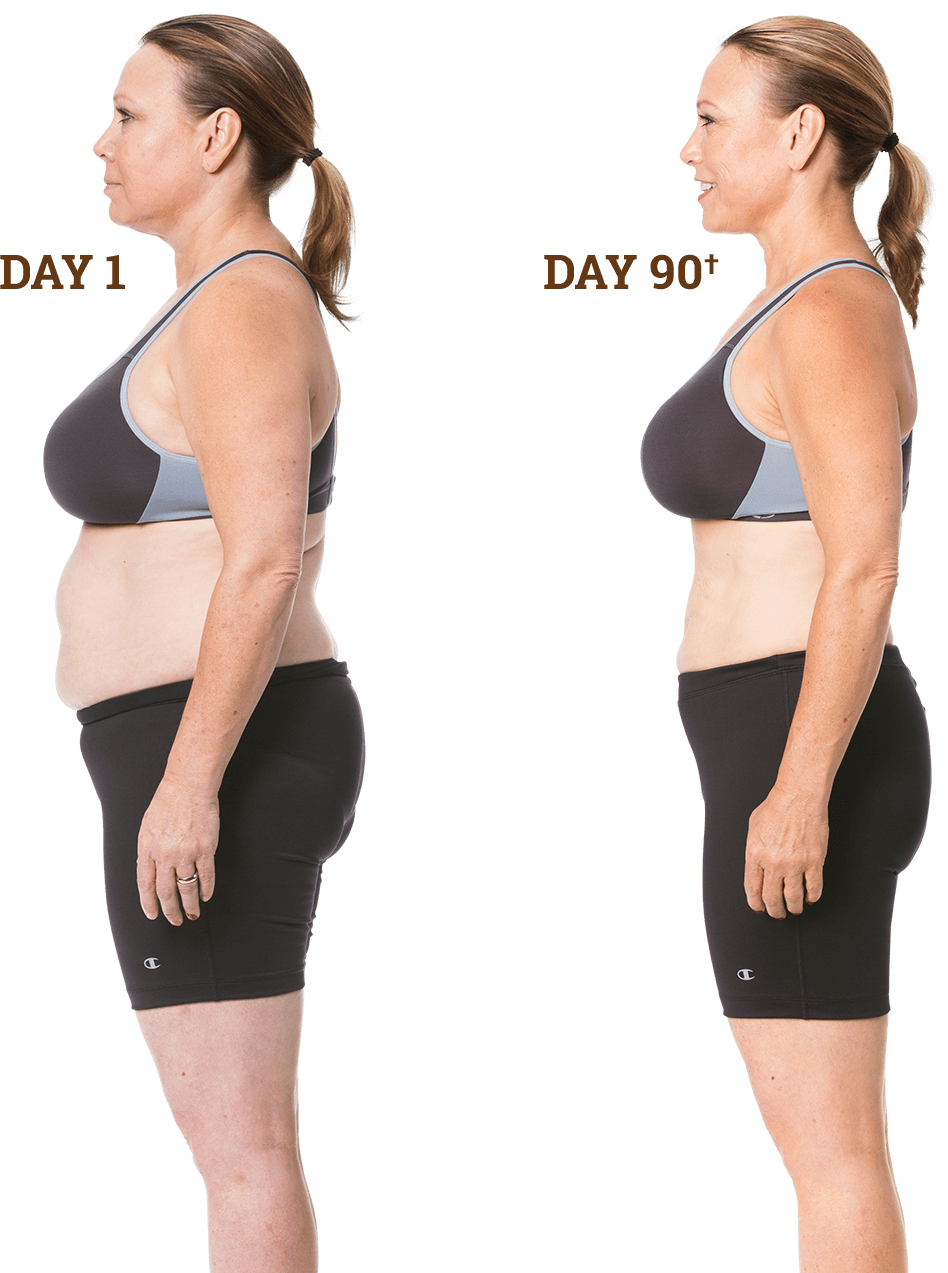 †Results vary depending on starting point, goals, and effort.
And to
make absolutely sure

you get amazing results…

"…I've even made your nutrition ridiculously simple.

Here's the thing: Diets don't work when you feel deprived. So I found a way for you to eat what you want, in just the right portions, so you can lose weight and still enjoy your life.

It's simple. It's easy. And you don't have to count calories, buy special foods, or stay home when everyone else is eating out.

So stop the yo-yo diets. And quit worrying about your weight. I'll show you how."
Finally, someone made it simple for me.
Barbara G. / Age: 32
"The workouts are great because they are easy to learn but can be adjusted so that you push yourself more as you get used to the steps. It helped me keep going and push more each time."
HERE'S WHAT YOU GET
WITH
COUNTRY
HEAT
Turn it up with
6 blazing-hot
dance
workouts
on 3 DVDs
You'll get 6 high-energy,
low-impact routines that
scorch
calories and incinerate
fat in 30 minutes max. And
every workout has a
step-by-step breakdown of all the
moves, plus a modifier to
show you how to make the
moves even easier.
No weights or equipment needed for these total-body
workouts—just jump
in and
start dancing!
Country Swing
Go a little wild with
songs like "Young &
Crazy" while you crank
up the calorie burn with moves like the Grease
Step and 2-Timing Hop.
Giddy Up
Stomp your feet as you
speed up your heart
rate. Moves like Scuff
Squats and Saddle
Jumps work your legs
and glutes, but songs
like "Fake ID" help you
forget you're burning
major calories!
DOWN AND DIRTY
Get down to the songs
"Sideways" and
"Footloose" and feel the
fire in every muscle,
while steps like Rocking
Horse and Mule Kicks
help send your
metabolism soaring.
BRING THE HEAT
Autumn mixes up the
tempo to blast your
entire body with
high-energy moves set
to "I Like It, I Love It"
and other hot songs that
get your heart pumping
so you can get fit fast.
TRAIL RIDE
Blitz the fat in no time
flat! There's no cooling
your heels when you're
doing the Summertime
Stomp to tunes like "Bar
Hoppin'" and "Be My
Baby Tonight."
DANCE CONDITIONING
Follow Autumn's most
effective toning and
conditioning moves
that use your own body
weight to help build
muscle and sculpt your
sexiest body yet.
A simple
nutrition plan that fits your life
These 7 colour-coded containers and Shaker Cup put you back in control of your eating. I don't believe in extreme diets or rigid food rules. This is how you get real, sustainable, life-changing results.
Green — Veggies
Purple — Fruits
Red — Proteins
Yellow — Carbs
Blue — Healthy Fats
2 Orange — Seeds & Dressings
Shaker Cup — Beverages
TOOLS TO GET YOU ON
THE RIGHT TRACK—AND KEEP THOSE RESULTS COMING
Eating Plan

Losing weight has never been so simple. Or this delicious. My Eating Plan and recipes help you get lean fast, without starving or giving up your favourite foods. Because when you fuel your body right, you
look—and feel—amazing!

Quickstart Guide

I want you to jump right in and dance from Day One. This guide will show you exactly where to start—and what to do next.

30-Day Calendar

I put all the workouts in just the right order to keep you in the groove and motivated, so the results keep coming. And there's tons of variety so you'll never get bored. Just follow the calendar, and you never have to guess which workout to do each day.
Order Now, And I'll Even Give You
a Free Workout!
Night Crawl Line Dance Workout
Hit the dance floor with Autumn's all-original choreography set to a brand-new song from a top country artist who wrote it just for Country Heat!
Plus Free 24/7 Online Support
With my team of fitness experts, you can get FREE support around the clock, as well as nutrition tips and personalized fitness advice from real pros who know how to make sure you succeed.
When You
Add It Up…
All these dance routines, PLUS the simple
portion-control system, programme guides, calendar, and support tools SHOULD cost you over £250…
BUT NOT TODAY, Because you can get the entire Country Heat programme for only 3 payments of £19.95 (+£6.95 p&p)!
Just 3 monthly payments of £19.95 (+£6.95 p&p). Or select a single payment option during checkout.
30-DAY MONEY-BACK GUARANTEE (less p&p).
YOU'RE GUARANTEED TO
LOVE
COUNTRY HEAT—OR YOUR MONEY BACK!
Still not sure if it'll work for you? Don't worry—Country Heat comes with a no-risk 30-Day Money-Back Guarantee. Try all the workouts, and see how incredibly fun they are. If you're not loving every minute—AND seeing the weight-loss results you expect—just return the kit for a full refund of your purchase price (less p&p). What do you have to lose? It's totally guaranteed!
"BELIEVE IN YOURSELF.
THE TIME TO START—

IS NOW."
There's nothing keeping you from getting healthy and losing the weight today.
It doesn't matter what you've tried in the past. What matters is now…and taking the first step to begin.
That step has never been easier than it is with Country Heat. Don't worry about getting the steps right. Just keep moving. It's as simple as that. You're going to love it. And you'll stick with it. And the weight will start to come off.
So join me for 30 days and discover how amazing it feels to be healthy, confident, and strong.
Come on, let's do this!
Order now and get
There's no time to waste. Order right now and we'll upgrade your order to Express Delivery—a $15 value—FREE!**
That means you don't have to wait 2 or 3 weeks to get started. You can be dancing off the weight in just 3 to 6 days!


Just 3 monthly payments of £19.95 (+£6.95 p&p).
Or select a single payment option during checkout.
30-day money-back guarantee (less p&p).
**Express delivery only available in the U.S., excluding its territories, Alaska, and Hawaii.
Try Country
Heat Now
Just 3 monthly payments of £19.95 (+£6.95 p&p). Or select a single payment option during checkout. 30-DAY MONEY-BACK GUARANTEE (less p&p).
GET A BODY YOU'RE PROUD OF, AND WE'LL GIVE YOU
A FREE
T-SHIRT!
When you've danced off the weight, you'll want to show off your new smokin'-hot body in clothes that make you feel good. So send us your "before" and "after" photos, and we'll send you this FREE
T-shirt.
Learn more